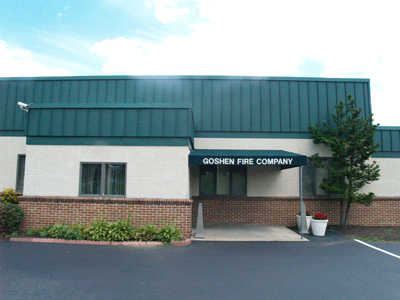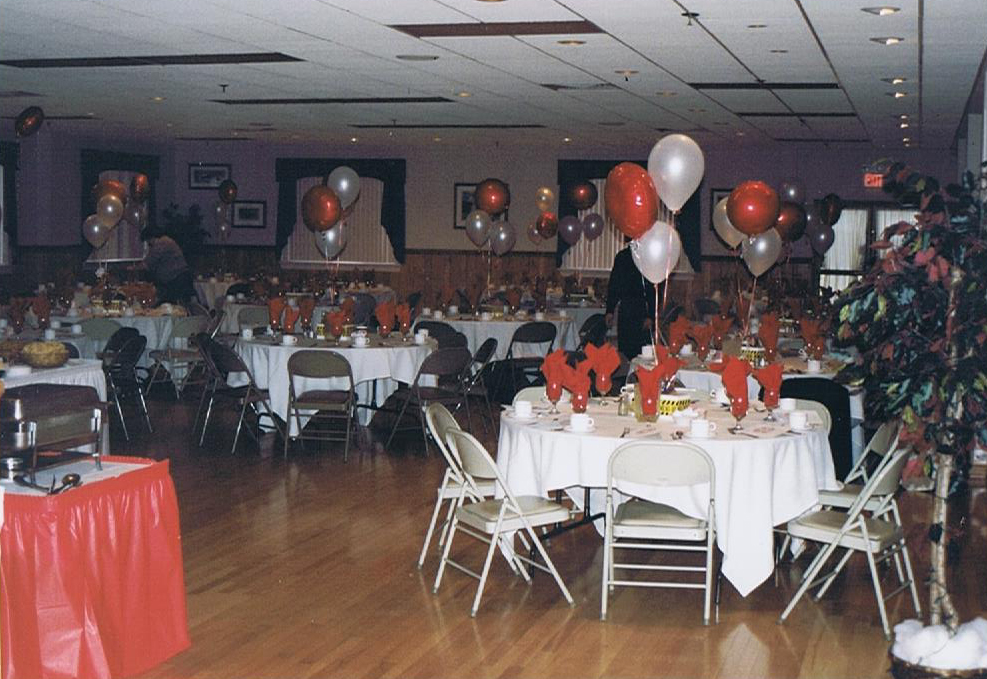 Goshen Fire Company Banquet Hall 1320 Park Avenue West Chester, PA 19380
For further inquiries, please call 610-430-1555, option 1 or email Hallrental@goshenfireco.org
To see our recommended vendor list, please click here
Thank you for your inquiry regarding a possible Goshen Fire Company hall rental (located at our Park Avenue location; please note that our Greenhill location does not have a banquet hall).
For 2022, our basic party rate is $650.00; and Wedding or Quinceañera rate is $900.00
Both rates include the use of the hall facilities for up to 4 hours, set-up and clean-up.
All music and entertainment must end by 10:00 pm in order to comply with E. Goshen Township Noise Ordinance.
There is a special rate available for community service groups.
Please call 610-430-1555 (follow the voice mail directions) or email Hallrental@goshenfireco.org  for additional information on community service rates.
Once a date is selected and confirmed, we will hold the date for up to four weeks.
If we do not hear from you within that period of time, the date will automatically be released.
Thank you for considering using the facility and please do not hesitate to contact us if you have any questions
The hall is an air-conditioned facility.
The Beverage Serving area has plenty of refrigerated space, but no ice maker.
You may bring in your own food, beverages and music.
Our round tables are 5 feet (60 inches) in diameter and our rectangular tables are 8 feet (96 inches) long.
Both styles can seat 8-10 people.
The maximum capacity of the Hall is 160 people.
You will need to provide a Certificate of Liability Insurance. Check with your Homeowner's or Renter's Insurance Agent.
IMMEDIATELY AFTER YOUR EVENT ALL PERSONAL BEVERAGES AND BELONGINGS MUST BE REMOVED FROM THE PREMISES OR THEY WILL BE REMOVED BY OUR STAFF AND ANY DEPOSITS YOU MAY BE ENTITLED TO BY BEVERAGE SUPPLIERS ETC. WILL BE FORFEITED BY YOU
The Hall is located on the street level, there are no steps, and it is completely handicap accessible, including restrooms.
It is a non-smoking hall and smoking is permitted outside using receptacles provided.
If you would like to see the hall, please email hallrental@goshenfireco.org to set up a time.
About 3 to 4 days before your event, your event supervisor will contact you to discuss final plans, access to the facility for decorating, caterers, etc.
If for some reason you do not hear from a supervisor, please leave a message at 610-430-1554 or email Hallrental@goshenfireco.org
Once we receive your request, an application and Hall Rental Agreement will be forwarded to you.
In order to guarantee reservation of the Hall, you must send a minimum deposit of $100 to the Hall upon receipt of the Agreement.
In addition to the rental balance, an Escrow-Damage deposit of $200.00 is also required 30 days in advance of your event which will be returned to you within 30 days after your event.
The Agreement contains complete rules and regulations regarding hall rental.
FULL RENT and ESCROW MUST BE PAID 30 days prior to your event.
READ the CONTRACT CAREFULLY FOR TERMS.
ABSOLUTELY NO CONFETTI and/or GLITTER ALLOWED. Escrow will be forfeited if this policy is violated.
Should you have any additional questions, or wish to obtain an Agreement, please call 610-430-1555 or email Hallrental@goshenfireco.org
Sincerely,
Katie Harrison
Hall Rental Contact Person